Receiving the National Excellence Award from the Government of India for Jyothi's unique role in making a difference in the lives of the people through health awareness Programme and Medical Camps.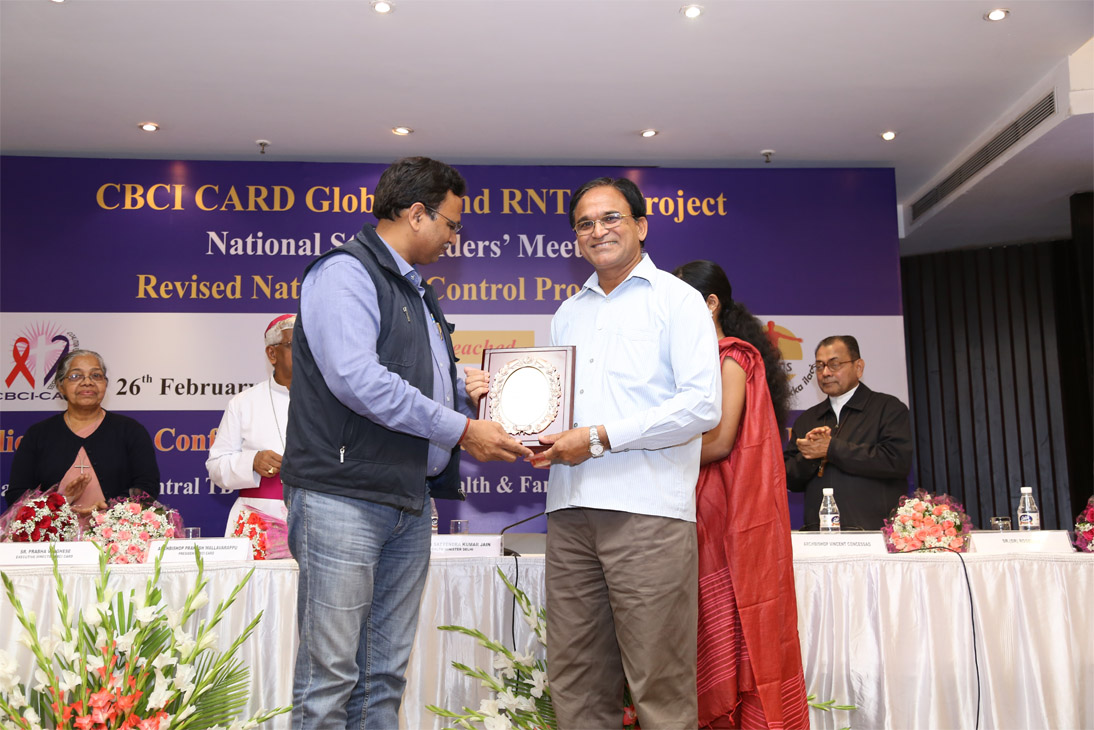 CBCI –CARD (Catholic Bishops Conference of India coalition for Aids and related Diseases) as sub Recipient to the central Division, Ministry of health and family welfare for the global fund rolling continuation channel grant award sought to facilitate the involvement of the Catholic Church network in Revised National Tuberculosis Programme (RNTCP) across 19 states of India for the last six year period.
The objective of this project is to reduce Tuberculosis in our country. This was done jointly by CBCI- CARD. The project is done in some catholic hospitals where the respective governments have recognized DMCS.
In this connection a two day meeting was organized on 25th and 26th February at the Indian Social Institute, Lodhi Road, New Delhi for the bishops and Directors connected to this programme, by CBCI-CARD. The objectives of the meeting were,
1.To update the stake holders on the current status of work of catholic health facilities TB control in India.
2.To discuss on expert panel critical areas of partnership in tuberculosis control.
3.To witness and analyze the performance of outstanding catholic health facilities which have been selected for National level Recognition.

During the deliberation, every selected organization presented a five minutes power point presentation at the Indian social institute, showcasing the performance in the control of Tuberculosis. Jyothi Hospital was represented by Rt.Rev. Simon Kaipuram and Fr.Paul Koonamparampath, the Chairman and Director of Jyothi hospital respectively.
The certificates of honour and the shield stated that "This is to honour Jyothi hospital, Odisha, for the outstanding contribution to 'Tuberculosis control on the National stake holders' meeting of the Catholic Bishops' conference of India- coalition for AIDS and Related Diseases held at India International Centre, New Delhi on 26-02-2015".
The certificate was signed by Archbishop Prakash Mallavarapu, President, CBCI-CARD and Sr. Prabha Varghese, Executive Director CBCI-CARD. Both of them were present on the dias during the ceremony along with other dignitaries. While honourable minister Satyendra Kumar Jain, Health Minister of Delhi gave away the awards to outstanding performers, Most Rev.Prakash Mallavarapu, Presided over the function and felicitated the winners. Dr.R.S.Gupta, DDC (T.B) central TB Division, was the guest of honour.
This award is a recognition of the good work done by Jyothi Hospital in Odisha. It also brings with it added expectations and responsibilities.

Fr.Paul Koonamparampath